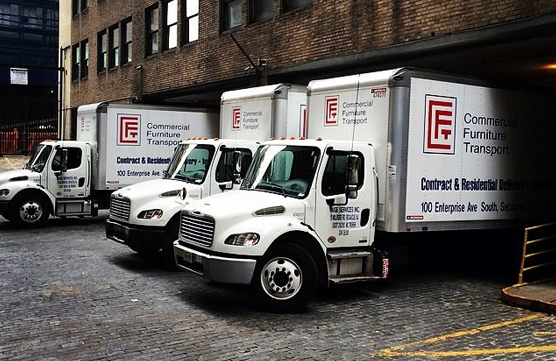 DELIVERY:
CFT exceeds all expectations by providing everything your delivery needs once it arrives at our 125,000 sq ft. warehouse facility 5 minutes outside NYC through our elite services. CFT is dedicated to customizing and delivering premium quality service to our customers through safe handling and efficient transportation of furniture orders.
Our warehouse personnel are experts in receiving, inspecting and tagging techniques that support a smooth, orderly flow of product to the project site.
CFT's delivery fleet is custom built deliberately to ensure product and personnel safety. To minimize the possibility of product damage during transport, all of our vehicles have:
Polished wood floor
Air ride suspension
Cargo- controlling "e" track
2500-lb power lift gate
Our delivery services are available for dedicated projects and regularly scheduled routes. When a directive arrives, we'll get it there; it's what we do!
INSTALLATION:
Organization and experience are the two fundamentals behind every CFT Installation. Our skilled carpenters and qualified project managers provide a hands on approach that set us apart from the rest of the industry. We provide a hands on management approach as the eyes and ears of every project treating each like our own; Our execution style provides reassurance to our clients both near and far through the duration of their journey partnering with CFT.
CFT Project managers and installers work hand and hand from the moment a job is awarded to create a custom and efficient installation execution. With over 30 years of commercial furniture union and non-union installation experience, CFT grooms each installation with a strategic structure based on a strong understanding that no project is the same.
Experience:
Architectural walls
Retail fixtures
Hospitality FF&E
Workstations
Casegoods
Files
Tables
Seating